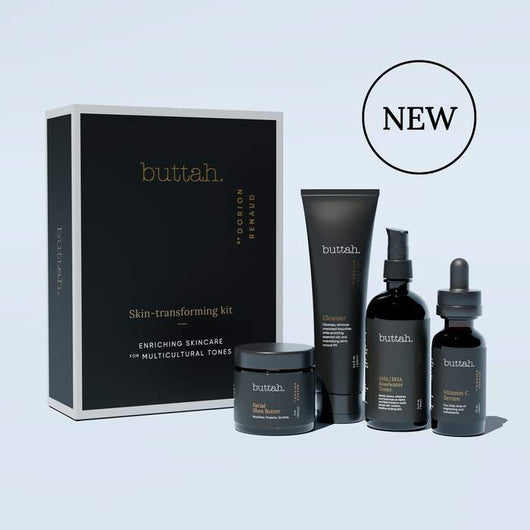 Supreme Customizable Skin Kit
Buttah Skin
Regular price 95.00 USD 95.00 USD Sale
---
Hurry now
Limited items left
poup with stuff in it
close
---
Enriching skincare for normal-to-combination melanin-rich skin types

Easy as 1, 2, 3, 4 to get glowing skin as smooth as butter with our customizable skincare kit. Products designed to gently cleanse, exfoliate, protect, and moisturize daily to uncover your best skin. Formulated especially for melanin-rich complexions and all skin types. Just select your moisturizer --  to get glowing with Buttah smooth skin. 
Kit includes:
BUTTAH SKIN Cleanser
A daily gel cleanser that gently lifts away dirt, oil, debris, and radiance-dulling surface cells for smoother, brighter, healthy skin without stripping the skin.  3.4oz (100ml)
BUTTAH SKIN Rosewater Toner
This Rosewater Toner is an innovative multi-function toner-exfoliator that gently cleans, refreshes and balances skin for a radiant, petal-soft complexion. Alpha and Beta Hydroxy Salicylic Acids balance excess oil and unclog pores for fresh, youthful, healthy-looking skin. The soothing scent of Damascus Rose and Lavender lingers beautifully. A refreshing step in your daily Buttah skincare routine. 3.4oz (100ml)
BUTTAH SKIN Vitamin C Serum
Target dryness, excessive oiliness, imperfections, hyper-pigmentation (dark spots), and inflammation with Buttah's daily dose of Vitamin C for brighter, vibrant, and truly healthy-looking skin.
Choose Your Moisturizer: 
OIL-FREE HYALURONIC GEL CREAM (NEW!)
This Oil-Free Hyaluronic Gel Cream moisturizer delivers deep hydration to oily-prone skin and locks it in for all-day moisture! Grape Seed Extract helps protect the skin, even skin tone and texture, and promotes a healthy look. Water-based. Fast-absorbing. Non-greasy. 2oz (56.5g)
[OR]
COCOSHEA REVITALIZING CREAM 
Light-as-air skin revitalizing moisturizer is the perfect daily moisturizer for normal-to-combination melanin-rich skin types. Formulated with our signature blend of shea and cocoa nut butters that soften and smooth the skin, skin-quenching hyaluronic acid, and Vitamin E to soothe and calm the skin. This super-charged formula helps restore your complexion's healthy glow for a more youthful appearance. For all melanin skin tones. 2oz (56.5g)
[OR]
FACIAL SHEA BUTTER
Boost radiance as you soothe hydrate and nourish your skin with pure, rich unrefined organic Shea Butter imported from Ghana. 2oz (56.5g)
Real time shoppers on site
stock running low.